Bring Scotland's built heritage to life
Explore Scotland's traditional buildings through free hands-on workshops, interactive activities and cutting-edge technology. 
We offer a wide range of opportunities within our learning programme. Our Outreach Team can cater to a wide range of groups, from schools to adult learning classes. 
We offer these groups the opportunity to use our dedicated facilities, learn from our conservation and learning experts, and experience our built heritage in a unique way.
Why visit?
We want to make sure that our heritage is cherished, understood, shared and enjoyed with pride by everyone. 
Our building conservation hub looks to inspire you and allow for the exploration of:
traditional buildings construction

materials used to build them

skills that have kept these buildings standing today
Making learning accessible
Not only are our learning opportunities free of charge, school groups can also take advantage of the Scottish Government Heritage Education – School Visits Travel Subsidy, which can cover up to 75% of transport costs.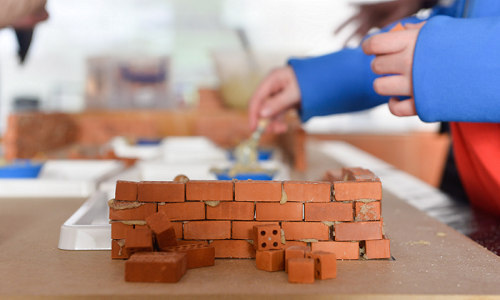 Activities during your visit
Your visit will give your group new insight into the historic environment all around us, and how we are working hard to conserve it for generations to come.
Schools
Workshops for young people are led by a dedicated member of our Outreach Team. Our activities bring in both STEM subjects and the core conservation themes of traditional buildings, materials and skills.
We hope to inspire you, and reveal how science, craft skills, innovation and tradition are combined to conserve Scotland's unique built heritage. Our school workshops are hands-on, interactive, and fun! 

Community Groups
Our Outreach Team offer inspiring activities which include anything from tours of our building to interactive workshops.
We are also interested in working together with community groups on bespoke projects relating to traditional buildings, materials and skills.
If your community group has an idea for a project involving Scotland's traditional buildings, materials and skills that you want to explore, please get in touch.
Who is it suitable for?
We welcome a diverse range of groups and our programme suits all styles and levels of learning.
Schools
School workshops are suitable for primary pupils working within the Scottish Curriculum for Excellence.
Community groups
We work with a wide range of community groups; each visit is tailored to individual group's requirements.
Other learning opportunities
If the above activities do not suit your learning needs or aspirations, explore other heritage-related learning opportunities from Historic Environment Scotland.