Traditional roof repairs
Explore the appearance, performance and deterioration of traditional roofing materials and their contribution to the significance of historic buildings.
Building
Accreditation
Our Advanced Diploma prospectus contains information about all our short courses:
Download our prospectus
Dates
9 January - 19 March 2020
Fees
As a stand-alone short course:£885
Diploma
Looking for a related qualification? Learn about our Accredited Diploma that can be taken part-time or full time.
Explore Diploma course
Gain a brief history of the wide range of traditional and innovative materials used on Scottish roofs from the medieval period to the present day on this short course. Get an overview of how roofs function as an assemblage of many disparate elements, including dormers and chimneys.
Examine traditional Scottish roof coverings, including:
stone
slate
tile
thatch
lead
corrugated iron and other metals
traditional construction methods
What you will learn
In this short course, you will understand how to identify areas most prone to decay, deterioration and mechanical failure, in cladding materials, fixings, flashings, rainwater goods and underlying timber or metal structures.
By the end of the course, you'll know more about how to:
inspect and survey traditional roof structures
diagnose causes of problems
procure materials for a roofing project in the context of current principles of conservation best practice
In addition, explore sustainable procurement and the current current challenges of maintaining adequate levels of traditional roofing skills in the Scottish workforce.
Topics covered
Introduction to Scottish roofing
Geology of Scottish slate
Repair and conservation of slate roofs
Traditional roofing lead-work in Scotland
Rainwater goods and roof features
Chimney repairs and maintenance
Corrugated sheet iron roofs
Repair and conservation of corrugated roofs
Scottish thatched roof traditions
Repair and conservation of thatched roofs
Repair and conservation of clay tile roofs
Course content
Short courses offer the opportunity to learn about building conservation through lectures, workshops and site visits.
Classes, lectures and presentations
Students benefit from attending classes and lectures taught by national and international experts. Forthcoming lectures are to be confirmed.
Previous speakers have included:
Dr Joan Walsh, Geologist and Scottish Slate Specialist

Stuart Eydmann, Planner and author

Neil Grieve (University of Dundee)
Jessica Hunnisett, Senior Technical Officer (Historic Environment Scotland)

Ali Davey, Project Manager (Historic Environment Scotland)

Chris McGregor, Head of Projects (Historic Environment Scotland)

Hands-on workshop/lab activities
Students are often offered the opportunity to take part in hands-on workshops or lab activities as part some short courses.
On this short course, you can participate in workshops on:
lead welding
lead bossing
slate dressing
slate laying
Potential site visits
Students have the opportunity to participate in site visits. These vary from one year to another.
Previous site visits for this course have included:
Assessment
Although our short courses are not formally assessed, students will be awarded a certificate upon successfully completing this course.
A formal qualification can be obtained by studying our Advanced Professional Diploma on Technical Building Conservation.
What our students say
It's one thing to hear about lime mortar in a lecture, but it's an entirely different experience to be able to point it out on a building, and have a go at mixing it.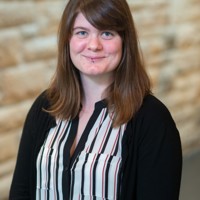 A great introduction to the key issues, materials, skills and techniques that all conservators – from homeowners to industry professionals – have to come to grips with when looking at traditional buildings.
"One of the key things I learned was the importance of maintaining and sustaining traditional skills as a viable career option going into the future. We cannot conserve our past effectively without the proper understanding of those past traditional skills."
Attending has enabled me to share ideas and to network with professionals and like-minded people in the field.