Conservation of surface finishes
Discover the history and conservation of a range of internal and external surface finishes traditionally used on Scotland's historic buildings.
Material
Accreditation
Download a prospectus for more information on the diploma and short courses.
Temp prospectus link
Fees
As a stand-alone short course:£420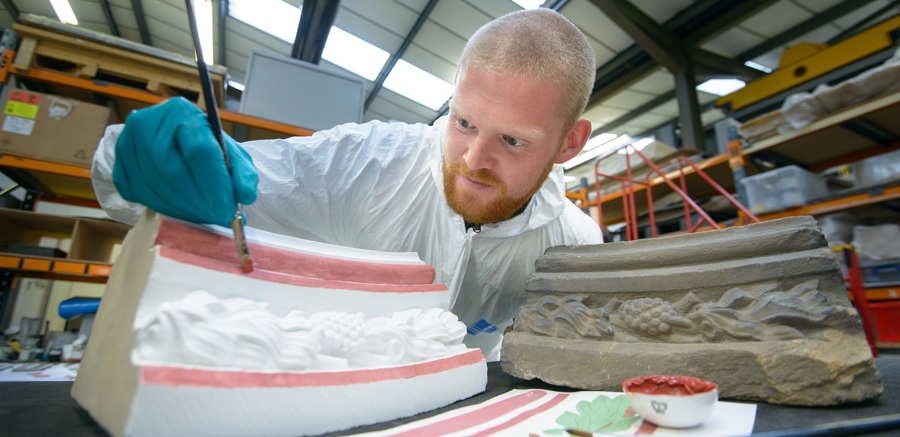 Get a historic overview of the use of paints and other coatings in Scottish architectural traditions, from the medieval period through to the 20th century.
What you'll learn
As well as exploring the impact of internationally renowned Scottish artists such as Adam, Cottier, Mackintosh and Traquair, you'll learn about:
technological developments from hand-mixed coatings using natural materials such as lime and earth pigments
manufacturing of paints and varnishes on an industrial scale and innovative synthetic materials
the physical properties of paints, varnishes and other coatings
high-style decorative finishes such as gilding and stenciling and the technical skills and knowledge required to conserve, restore and replicate these today
By the end of this course you'll understand:
current conservation repair principles
how to undertake appropriate repairs including:


initial survey and documentation
assessment of fabric condition and diagnosis of the causes of defects, deterioration or mechanical failure
specification, procurement and on-site repair of existing or installation of new material
Everything you learn will be according to the best current principles of best conservation practice.
Topics covered
Origins of materials
Range of materials and uses
Properties and characteristics
Decorative finishes
Decay mechanisms
Repair and conservation techniques
Specifying repairs
Health and safety
Course content
Hands-on workshop/lab activities
Paint sampling, preparation and micrcoscopal analysis of samples; exercises in gilding and graining and application of other faux finishing
Potential site visits
Holmwood House
Cottier Theatre, Glasgow
Gladstone's Land and Mansfield Traquair Centre (Edinburgh)
Trinity House
Leith
The Palace Project (Stirling Castle)
Assessment
Short courses are not formally assessed. Students will be awarded a certificate upon successfully completing this course. Anyone looking for a formal qualification can study our full diploma course or separate units.
What our students say
It's one thing to hear about lime mortar in a lecture, but it's an entirely different experience to be able to point it out on a building, and have a go at mixing it.
Attending has enabled me to share ideas and to network with professionals and like-minded people in the field.