Technical Building Conservation
Advanced professional diploma
Accreditation
Download a prospectus for more information on the diploma
Test CTA
Qualification
The diploma course is certified by the Scottish Qualification Authority (SQA). Students will be enrolled at Forth Valley College.
Dates
01 August 2019 to 29 May 2020
Monday - Friday
Study time
Taught:x days (506.5 hours)
Self-study:y days (742 hours)
Fees
For full-time or part-time study.
International students:£13,500
Diploma
Looking for a shorter course that fits in with your scheduled. Choose from over 20 certified shorts courses that can be taken part-time or full time.
Short Courses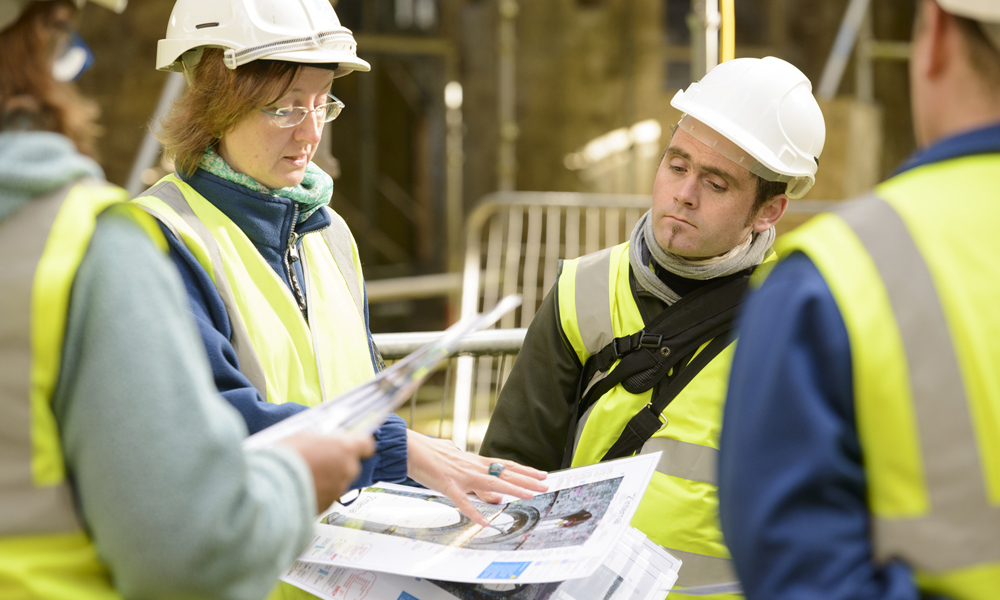 The Advanced Professional Diploma in Technical Conservation has been specifically developed in consultation with heritage experts to meet the growing demand for conservation skills in today's industry in Scotland.
Whether you are a new graduate, emerging professional or existing practitioner, the Diploma will broaden your knowledge and skills, and prepare you for a wide range of specialist careers in the heritage sector.
Be taught by those in the know
This course is taught by national and international experts, through a mixture of lectures, hands-on experience, and site visits.
*based on a commitment of one unit per year
Course content
The advanced professional diploma programme is made up of four units. Each unit is divided into modules and can also be studied independently. Explore your options within the four sections below.
Unit 1: Conservation in Context
Get an overview of the basic principles and traditions that underpin architectural conservation, with an emphasis on those particular to Scotland.
Duration
20 weeks
Dates
26 August 2019

-

28 February 2020
Credits
35
Taught hours
x days (176 hours)
Self study hours
y days (177 hours)
This unit covers the following modules:
Unit 2: Masonry, Limes and Cements
This unit covers the core materials of Scotland's built environment. Students will learn their historic use, best practice in their repair and conservation, and innovation in the research and use of these materials today.
Duration
25 weeks
Dates
27 August 2018

-

29 March 2019
Credits
38
Taught hours
x days (181.5 hours)
Self study hours
y days (194.5 hours)
This unit covers the following modules:
Unit 3: Structures and Finishes
Get a comprehensive overview of the variety of structures and finishes of Scotland's traditional buildings, including ironwork, claddings and coatings. Students will learn how to assess their cultural significance, and decay or failure, and discover best practice in conservation methods.
Duration
13 weeks
Dates
14 January 2019

-

26 April 2019
Credits
34
Taught hours
x days (157 hours)
Self study hours
y days (179.5 hours)
This unit covers the following modules:
Unit 4: Final Project
Students will collate, consolidate and synthesise the specialist skills and knowledge gained from Units 1-3. The Final Project requires students the adopt the role of a conservation professional in a scenario to rescue a building at risk. Students must demonstrate and understanding of – and addressing creatively – the many real and abstract challenges faced by a consultant charged with preventing the demolition of, and securing a future for, an important historic building.
Duration
6 weeks
Dates
01 April 2019

-

29 May 2020
Credits
20
Taught hours
x days (4 hours)
Self study hours
Optional study hours - y days (204 hours)
This unit covers the following modules:
Eligibility
Diploma applicants (full or part-time) should have a relevant honours degree (or equivalent) in a related discipline (e.g. architecture, surveying, engineering, geography, town planning).
Relevant professional experience, qualifications or institute membership may be accepted in lieu of a degree. Each application will be assessed individually.
Individual short courses can be taken as a short course and are open to anyone with an interest in the subject matter. These courses are not accredited, but students will be provided a certificate as proof of CPD on successful completion of their course.
Programme delivery
The diploma programme will be delivered through lectures and tutorials, labwork, workshops and site visits. Students will receive a solid theoretical understanding of technical building conservation, supported by practical, hands-on experience.
Outcomes
Upon successful completion of this course, students will be able to:
Understand the issues underpinning the successful practice of
architectural conservation in Scotland.
Evaluate the historical context and cultural significance of a traditional building, site, element or historic fabricPrform condition assessments of materials and buildings and analyse decay mechanisms, deterioration and failure.
Work within the legislative and public policy framework of heritage management.
Select appropriate, site-specific methods of conservation, surveying, improving energy efficiency and other alterations.
Develop research strategies.
Create and follow a programme of work repairs, and project manage the programme to successful completion.
Evaluate the use, function and performance on technology in conservation.


What our students say
The summer school was an excellent chance not only to hear about the historic built environment from leading experts in the field, but to take it a step further and have a chance to apply that knowledge through workshops and site visits.

It is one thing to hear about lime mortar in a lecture, but it is an entirely different experience to be able to point it out on a building, and have a go at mixing it yourself.

The hands-on application of knowledge was invaluable in my understanding of the importance of traditional skills and its application to the historic environment.
Summer School is sets itself apart by its ability to deliver largescale conservation topics in a concise and compact way. This method allows for those people who may not be able to take much time off other commitments to sign up to a few month undergraduate certificate to get a solid sense of direction about where they might wish to go next in their career. You cover a broad overview within a week as opposed to the cost or time consumption of other mainstream courses which are harder to opt out if you change your mind halfway through. I would say that summer school has something to offer to anyone at any stage of their career even if it is just a hobby or interest.